Welcome to kaiso koncepts.com
Learn to play calypso music, study calypso rhythms and phrasing, lessons in calypso syncopation and appreciation.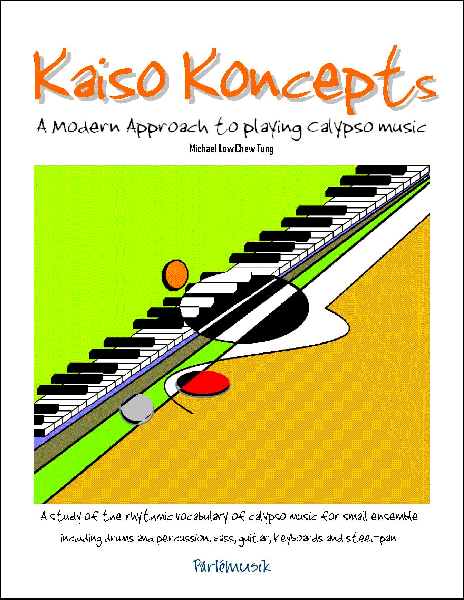 If you're reading this it's because you're interested in keeping kaiso music alive. I am too. Toward this end I have written a book titled
Kaiso Koncepts - A Modern Approach to Playing Calypso music
It is now available on-line at a cost of $25.00 USD / $150.00 TTD plus shipping costs.
You may order by sending me an e-mail at ashanti@tstt.net.tt with your contact info and your quantity.
E-mail me at ashanti@tstt.net.tt with any questions, feedback, inquiries about kaiso workshops, future publications, or distribution. Thanks.
Many books have been written about Calypso music.While most have focused on personalities, history, development as well as its social, cultural and political implications on modern society, I am yet to come across any published literature concerning the musical composition of calypso and how it ought to be played. There seems to be a void in this regard.
With this book, I endeavor to begin the process of filling that void by providing an approach to exploring all the musical elements that encompass the language of Calypso. While my primary focus is rhythm, elements of harmony and melody are also explored.
The goal is to provide a methodical system for educational purposes, and to record this information for the benefit of future generations.

To improvise in a kaiso style using simple rhythmic and melodic techniques.

To create effective bass lines using a combination of melodic exercises and our bass rhythm chart.

Exercises for increasing awareness and understanding of drum syncopation as it relates to calypso music, while providing an endless source of new and innovative grooves.

Accompaniment basics for ployphonic instruments including keyboards, guitar and steelpan.

Basic techniques for re-harmonization and substitution and lots more.

Young arrangers, composers and performers who are interested in increasing their knowledge about the building blocks of calypso and soca music.

Intermediate musicians who already have a grasp of harmony, are tecnically proficient on their instrument and are interested in exploring our indigenous music.

Professional musicians looking for a structured method for teaching the basics of calypso music.
Over 120 pages of information and exercises.
Section One - Kaiso Fundamentals
What is Kaiso?
Listening Recommendations
Reading and Writing Kaiso Music
Notation for Reading in 2/2
Essence of Kaiso
Understanding Syncopation
Syncopation Exercise
Rhythm Guide
Section Two - Rhythm
Kaiso Patterns for Drum Kit
Hi-hats
Kick Drum
Snare
Basic Snare Patterns
Advanced Snare Practice
Phrase Chart for Snare
Floor Tom
Percussion Patterns
Basic Patterns for Congas
Combination Conga Patterns
Cowbells and Iron Patterns
Section Three - Bass-ment Party
Kaiso Patterns for Bass
Rhythmic Bass Chart
Advanced Koncepts for Kaiso Bass
Advanced Bass Exercises
Section Four - Kaiso Kompin'
Kaiso for Khordal Instruments
Kaiso Accompaniment Rhythms
Two handed Rhythms for Keyboards
Rhythm Guitar
Section Five - Harmony
Kaiso Progressions
F Jam
Minor Progressions
Basics of Reharmonization/Substitution
Cliche Lines
Section Six - Melody
Creating Kaiso Lines for Composition and Improvisation
Choice of Notes
Importance of Phrasing
Kaiso Recognition Exercises
Key Kaiso Phrases
Use of Chromatic Approach Notes
Delayed Resolution
Chromatic and Delayed usage in Minor Progressions
Use of Triplets
Approach to Improvising
Articulation and Interpretation
Final Thoughts
Section Seven
Snare Drum Exercises 1/2/3
(c) 2007 Michael Low Chew Tung.
Michael Low Chew Tung, better known as Ming by his peers, is a multi-instrumentalist, composer and arranger.
He is a graduate of The Recording Workshop in Ohio, and has studied with renowned musician Jeff Berlin at the Players School of Music in Florida.
A twenty-year veteran of the Trinidad and Tobago music industry, he began playing professionally in the mid-eighties as a keyboardist with The Majors. He quickly graduated to Traffik in the early nineties, and spent the rest of the decade as a member of Charlie's Roots. It was during that time that he had the privilege to work alongside legendary calypso and steel-band arranger Pelham Goddard.
He has toured extensively, throughout the Caribbean, North and South America and Europe, and has performed at all the major North American and Caribbean Carnivals, playing behind calypso's leading performers.
A private music educator for a number of years, he now turns his attention outward to reveal his knowledge of calypso music, founded on years of experience as a musician, arranger and producer in the calypso and soca arena.
This foray into music education literature is a natural evolution for this driven musician, and shows his concern for the survival and advancement of this music for generations to come.